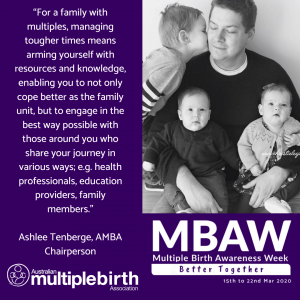 WMBA organises a range of events to support our member families, these include:
New and expectant parent sessions
Parent catch-ups
Fundraising activities
Annual Easter Multiplay (playgroup)
Annual Christmas Party.
If you are a WMBA Member, please click here to view and RSVP for upcoming events in 2021.
---
Events 2020
Due to the current COVID-19 pandemic, most of our face-to-face events were cancelled in 2020.
We were, however, able to hold one of our key fundraising events of the year – the good 'ol Bunnings Sausage Sizzle. Every year, the Bunnings BBQ is our biggest fundraiser for the year and we were worried about not being able to run a BBQ in 2020. Funds raised from the BBQ will help us run Playgroup, events and information sessions in 2021 and contribute to our 2021 Christmas party.
There were also online information sessions that members could access for support and helpful tips for raising multiples. If you are a new or expectant parent of multiples, please email memberships@westgate.amba.org.au for details about our next new parent info session.
---