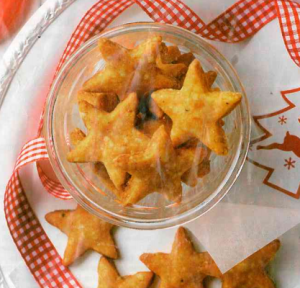 Paprika and Parmesan Biscuits
Delicious bite-sized snacks, perfect for little fingers!
Ingredients:
100g chilled butter chopped
1.25 cups of finely grated parmesan
0.75 cup of plain flour
1 teaspoon of ground paprika
1 teaspoon of mustard powder
1 egg yolk
Instructions:
Preheat oven to 180 degrees and line baking tray with baking paper
Process the butter, cheese, flour, paprika and mustard in a food processor until like fine bread crumbs. Add egg yolk and process until mixture just comes together.
Turn onto a lightly floured surface and gently knead until smooth.
Wrap and refrigerate for 30 minutes
Roll out dough on lightly floured surface to 4mm thickness. Use a star cutter to cut shapes from pastry.
Bake for 15 minutes or until lightly golden. Allow to cool before serving.
---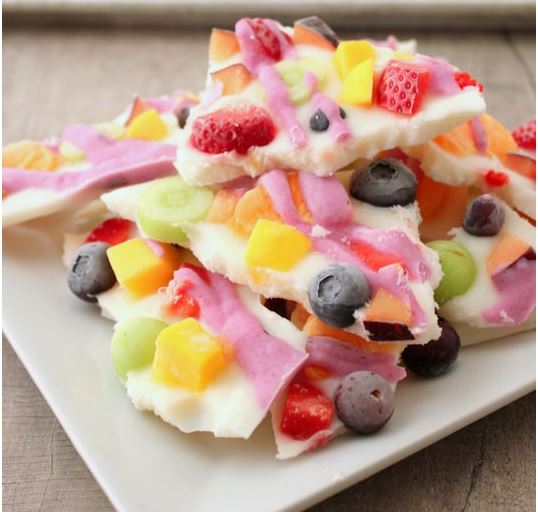 Frozen Yoghurt Rainbow Bark
A quick and easy activity to do with the kids, creating a colourful and delicious snack to enjoy as the weather warms up.
Ingredients:
2 cups of plain full-fat greek yoghurt
Small tub of blueberry yoghurt (or any flavour you like)
2-3 tablespoons of honey or maple syrup
2 cups of chopped fruit (fresh or frozen berries, mango and kiwifruit work well)
Instructions:
Line a large baking tray with baking paper
In a medium bowl, mix together the yoghurt and honey/maple syrup
Pour the yoghurt over the baking paper and spread with a knife or spatula until you have a smooth layer
Decorate with the chopped fruit and drizzle the blueberry yoghurt over the top
Place the tray in the freezer for at least 4-5 hours.  Once frozen, slice the yoghurt slab into chunks of 'rainbow bark'
Place any leftovers in a zip-lock bag and store in the freezer