One family's journey home to Melbourne during the pandemic
My husband, twin boys (Max and Jonas) and I were in Colombia visiting my family when the pandemic started.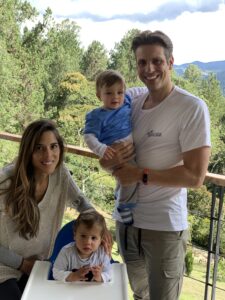 I'm originally from Colombia and my husband is from Germany. We planned a five month trip to Colombia and Germany for our families to meet our children for the first time in 2020. It was the trip of our lives! My husband got a permit from his job to work offshore for this time. Our first stop was Colombia, where we planned to be for the first half of our trip and then from there, we were travelling to Germany for the rest of the trip.
Covid-19 changed our plans completely. We couldn't fly to Germany as planned as borders were closed, so ended up spending eight months in Colombia. Finally, when the borders were opened up again, we flew to Germany on a humanitarian flight. However, before we managed to get seats on this humanitarian flight we had booked four commercial flights which were all cancelled just a couple of days before their departure dates. We spent five months in Germany and again it was a very difficult process to find a flight back to Australia.
After many attempts and three cancelled commercial flights, we were lucky to book four seats on a Qantas humanitarian flight from Frankfurt, Germany to Darwin. Our flight journey started with three days in quarantine at Frankfurt's hotel airport (as per request of the Australian Government). Once we arrived in Darwin, were transferred to Howard Springs Camp where we completed 14 days of quarantine. This extended quarantine period was a serious challenge with two toddlers, but we made it!
Despite all the obstacles and all the moments when we felt frustrated, anxious, stressed, emotional, etc this was a very special and very positive experience we will never forget. Covid gifted us with the opportunity to spend lots of time with our families which would have not been possible if it wasn't because of the pandemic. It also invited us to enjoy much more the little things in life and enjoy what the present moments present us.
If I could be of any help for anyone in the group who is going through a challenging time due to the pandemic, please don't hesitate to contact me via the WMBA closed Facebook group (you can find me there and reach out on Messenger), I will be very happy to listen and perhaps help somehow.
Maria Luisa F.
WMBA member